Top 15 Albums at 15 | Honourable Mentions
Dec 31, 2016 • Matt • ~ 14 minute read • 1725 words
---
Wow, it's the end of the year! It's also the end of the Top 15 Albums at 15 series, which I thought was an interesting and cool experiment. It forced me to reflect on my music tastes, and how age and maturity affected my journey as a music consumer. Before I do a mini-reflection, let's do a quick list of some honourable mentions that didn't end up making the list, but are still pretty cool albums.
All You Can Do by Watsky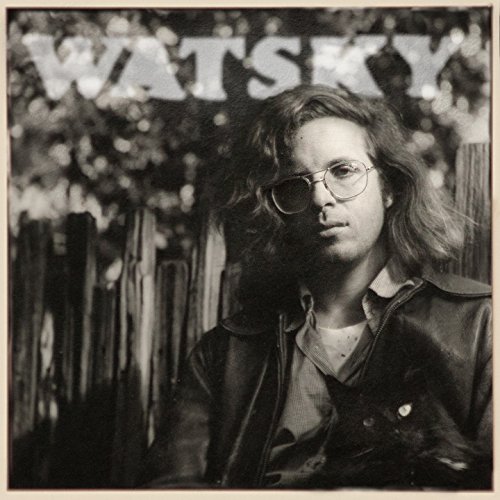 Watsky is a very interesting rapper. Unlike most rappers, he started off in slam poetry and spoken word, so his take on rap music is very different. Most of the songs have uplifting vibes, definitely don't sound like rap songs, and have a good balance of great wordplay and meaningful messages. I like this. I think that Watsky does a great job in his own niche of rap, where he's able to make positive vibe music with some pretty awesome flow. In All You Can Do, Watsky continues making his awesome style of music, but also experiments with spoken word songs, more aggressive, braggadocious rap, and ridiculously complex and fast lyrics. One of the songs that amazes me the most is Whoa Whoa Whoa, where Watsky drops some technically amazing flow tied with awesome Watsky-esque wordplay. For a long time, I jammed out to All You Can Do because it had that awesome versatility I talked about in Under Pressure: there's a song for every situation, and I can also kinda relate to Watsky's gripes and problems. Eventually, I grew out of Watsky's style of music, but it's still a nice wave of nostalgia every now and then.
Favourite Songs: Stand For Something, Bet Against Me, Whoa Whoa Whoa, The One, Never Let It Die, Sarajevo
Unorthodox Jukebox by Bruno Mars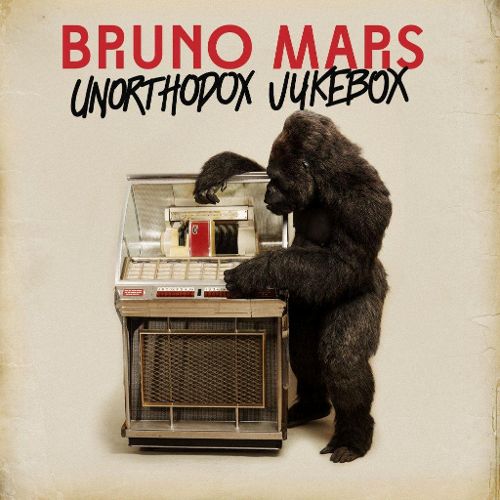 Unorthodox Jukebox is Bruno Mars' second studio album, after Do-Wops and Hooligans. Bruno maintains his high quality of music, classic but not dated production, and amazing voice in his second album. Unlike Do-Wops and Hooligans, Bruno moves the focus of this album to a more romantic, relationship-driven theme, with often shallow and cliché lyrics that didn't seem fresh. I still think that Unorthodox Jukebox is an awesome album, especially if you like romantic/relationship pop; but that really isn't my vibe (especially since, you know, not in a relationship). There are some songs on this album that I love: Locked Out Of Heaven and Treasure both have this disco-funk vibe that's very energetic and infectious, which is my favourite thing about Mars' music. I still think Bruno follows up on his promise of clean albums: every song fits with the album's aesthetic, is well-produced, and doesn't seem like a filler track. It's just the aesthetic itself that I'm not a huge fan of.
Favourite Songs: Young Girls, Locked Out Of Heaven, Treasure, When I Was Your Man, Money Make Her Smile
The Incredible True Story by Logic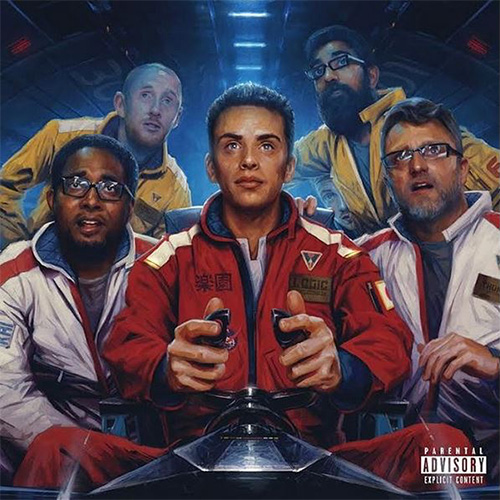 I've already gushed about to you how much I love Logic, and The Incredible True Story is no exception. TITS (heh) is Logic's second studio album, after Under Pressure. When the album was teased, it seemed like there would be a very clear, coherent theme that tied all the songs together, à la Kendrick. I was super excited! Awesome Logic storytelling and flow, plus a concept album! What could go wrong? When the album was released, it seemed like Logic strayed a bit far from his original promise (that this album would "change the world" with how groundbreaking it was). Don't get me wrong, I think Logic does what Logic does best again: songs with great flow, smooth production, and lyrical stortyelling. But he falls short on that idea of a concept album: the album is supposed to be based on space travel to a place called Paradise, but the majority of the album skirts the idea and doesn't really flesh it out. There are a few skits, but they don't really add to the concept rather just making some cheap jokes. Some songs seem like they're filler quality, and only made it past because they lightly touch on the album's "theme". At the end of my first listen, I felt a bit unsatisfied. There was so much room to explore this imaginary world, to have songs that metaphorically embodied humanity's search for Paradise, but didn't quite make it there. The lack of that cohesion, especially when promised, makes TITS a more disappointing release. While Logic expands his strengths, his weaknesses become more obvious (lack of conceptual depth, copycatting contemporaries). Still, I like Logic, and I definitely like The Incredible True Story.
Favourite Songs: Fade Away, Upgrade, Like Woah, Young Jesus, Innermission, I Am The Greatest, Lord Willin', City of Stars, Stainless, Never Been, Run It
E•MO•TION by Carly Rae Jepsen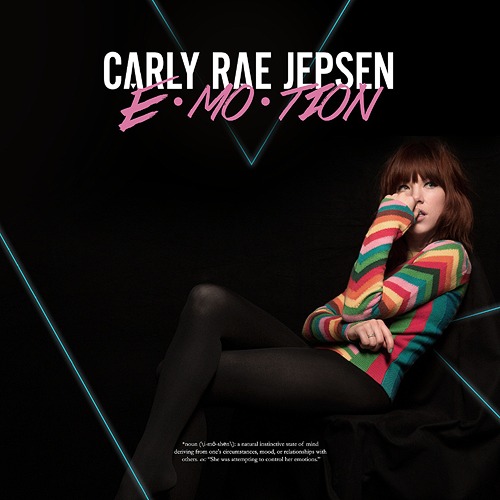 Oh man, oh man, my inner pophead is tingling. E•MO•TION is Canadian (woot) singer Carly Rae Jepsen's third album, after a very famous hit single in Call Me Maybe. Unlike Call Me Maybe, Carly went into this album trying to make something more personal, and more meaningful, rather than a song designed to be catchy on the radio. And it worked. E•MO•TION literally makes me feel emotions as I give it a listen through: every song makes me feel along with Carly, and understand her problems and why they're so bad. To be fair, the content of the album is very cheesy and love-based, which I'm not a huge fan of, but the execution is very well done. Each song has a certain feel to it, often emphasized by well-refined production, that embodies the song's message and ultimately creates a very well composed track. For example, LA Hallucinations is a song with a very simple premise: becoming famous makes you see the world differently. It's a very common pop cliché, and not one that I'd credit CRJ with being very innovative. But, the song is the perfect embodiment of this premise. The beat feels like it's from trendsetty L.A., and the shift of the song from verse to chorus reflects Carly's perceived change from a small-time music maker to an L.A. star; but, the concept of the song isn't shoved down your throat (cough Hopsin cough). It's a perfect example of what a good pop song should be. The lyrics are clear and easy to understand, are super catchy, and make sense with the theme of the song. It seems super easy to do, but Carly Rae Jepsen perfects this across the entire album. I think this makes E•MO•TION one of the best pop albums of 2015 (in my opinion), in terms of execution and delivery. Unfortunately, the album wasn't very popular (people expected another Call Me Maybe), though it did review well. Regardless of public opinion, I absolutely adored E•MO•TION.
Carly also released Emotion: Side B in 2016, which features a few songs cut from the original E•MO•TION. I'd also give that a listen as well. It's pretty awesome for an EP, and still has some hella catchy songs and everything you want from Carly. Plus, Store.
Favourite Songs: Run Away With Me, E•mo•tion, I Really Like You, Gimme Love, Boy Problems, Making The Most Of The Night, Your Type, Let's Get Lost, LA Hallucinations, Favourite Colour
Favourite Songs from Emotion: Side B: First Time, Fever, Cry, Store, Roses
good kid, m.A.A.d city by Kendrick Lamar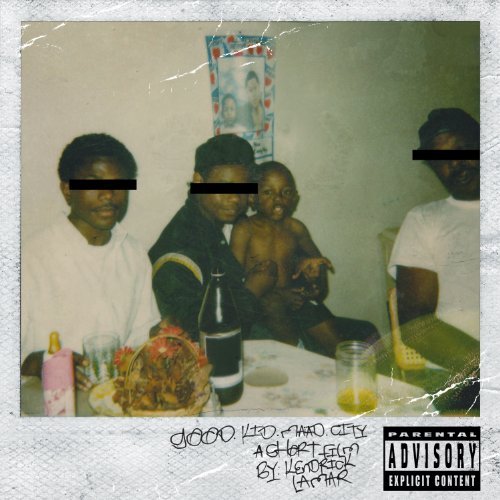 I don't have space to go into a super long review of a Kendrick Lamar album again, but I can tell you that this is another Kendrick Lamar masterpiece. good kid, m.A.A.d city is Kendrick's second official studio album, that explores Kendrick's young life (the good kid) in Compton (the m.A.A.d city). He tells us many stories about what it's like to live in Compton (I can't verify them, but I'll trust Kenny for now), and how drugs, violence, and women play major roles in both is development as a human being and the development of Compton as a city. And, like other Kendrick Lamar projects, he does this well. The songs themselves are bangers (m.A.A.d city and Backstreet Freestyle in particular), but you also get to understand what Kendrick has been through to get to this level of rap fame. His stories are vivid, but grounded in reality. Sometimes, they make you cry a little (Real was the one for me). I think that's the sign of a good concept album, one where you feel the experience that the artist tries to tell you. Well, except it's pretty hard for an Asian teenage nerd living in Toronto to relate with a gang-affiliated gun-wielding womanizing Compton rapper. While I appreciate how good this album, most of his content kinda just went over my head on the first few listens, and even now a lot of the grimy violence of his album makes me not want to ever visit Compton (even though his album is supposed to be a love/hate relationship with Compton, while I just really want to not get shot). Regardless, it's still an absolutely amazing album, and I definitely think that you should give it at least one listen.
Favourite Songs: Bitch, Don't Kill My Vibe, Backstreet Freestyle, The Art of Peer Pressure, Money Trees, Poetic Justice, m.A.A.d city, Swimming Pools (Drank), Real, Compton, The Recipe (Black Hippy Remix)
Final Remarks
I'm very happy that I ended up writing this series. I don't think that I did a great job of it (even now, I'm reconsidering my ordering, and the 1989 one is just really, really low-effort), but I did a good enough of a job that I was able to explore more about myself. Plus, maybe you, the only reader I have, has actually learned a bit about some cool albums you should listen to, or why I care about them so much. Overall, I'm pretty happy about this series. And, I'm sure I'll revisit this in the distant future and cringe at myself again. But hey, better regret doing something than not doing it at all.
Thanks for sticking through with me in 2016. Until next time!
---