Top 15 Albums at 15 | #4 Graduation
Nov 15, 2016 • Matt • ~ 5 minute read • 651 words
---
Did you realize, that you are a champion?
Album #4: Graduation by Kanye West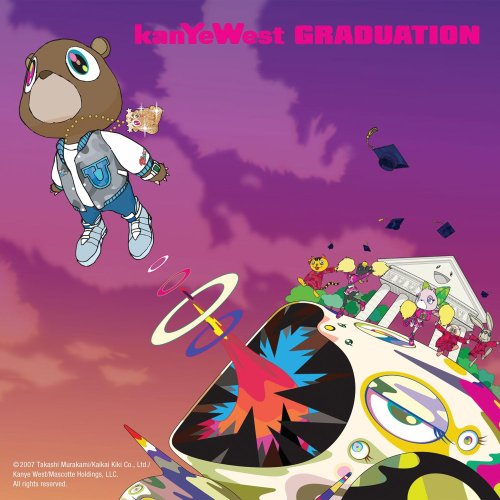 Kanye West is one of, if not the most, prolific rap artists of "my generation": he's sold 32 million albums, achieved 100 million digital downloads, won 21 Grammys, and has influenced music as a whole. Initially, he started off as a producer: he famously made beats for Jay-Z's The Blueprint, putting him on the radar with a style that borrowed from samples to create cohesive, diverse tracks. After, Kanye decided to enter the rap scene, dropping The College Dropout, which had a very soul feel to its hooks; consequently, it received Best Rap Album of the Year, and was nominated for 10 total Grammys. A lot of people thought that The College Dropout was going to be the peak of Kanye's musical career, because it didn't seem like it could get better than that. I loved it too: I was a huge fan of songs like We Don't Care, All Falls Down, and Never Let Me Down because they blended really, really good production + hooks and some hella good rap. But, evidently, it wasn't my favourite Kanye album.
After The College Dropout, Kanye dropped Late Registration, which was alright imo: it had iconic songs like Gold Digger, but it was kind of a worse The College Dropout.
And then, we got Graduation.
Graduation was a slight departure from the soul-filled College Dropout; instead, he drew inspiration from electronic and rock, and dropped skits in favour of a cleaner album. It worked. Graduation became an overnight hit, went double platinum (but with features), and won best Rap Album of the Year. It was very different from the gangsta-rap that dominated the charts for the past 10 years, like Jay-Z or 50 Cent, and ended up paving the way for a huge emphasis on production in rap. The production was insane: it was clean, not being overly intrusive into the song, but also provided atmosphere and rhythm in a way that wasn't heard before. Songs like Homecoming, Stronger, and The Glory weren't just a rap song, but a work of musical art: full orchestras, synergetic rhythms, and well-placed hooks complemented Kanye's lyrics (which were also fire). I liked this emphasis on production: I didn't like how most of rap ignored a lot of production in favour of lyricism, or did it sloppily. Personally, it's my favourite Kanye album: I think after he returns to being a bit sloppy (MBDTF) or the album just isn't good (TLOP, Yeezus) but a lot of this is opinionated.
I also liked this album because it set the stage for me as a rap listener. It's a watershed of a new generation of rap, one that I listened to for the next 7 or so years of rap (now is the age of trap music, according to cornrow kenny), and it's one of those albums that I'll be yelling at the kids on my lawn to listen to as the "golden age" of music. The album's awesomeness has grown on me through the years, both from listening to absolutely terrible production (Lil' Wayne's later works), and recognizing throwbacks to Graduation itself (Kendrick Lamar, Drake, J. Cole). Plus, the messages from Graduation, while nowhere near To Pimp A Butterfly), are still real and resounding. Champion is a really good "hype" song, even though it isn't Atlanta Trap or melodramatic rock. Homecoming is still a really good story song, and it's a very well-described one. Good Life is a great feel-good song. Stronger is also a really good hype song. Graduation is a really good album.
Except Drunk and Hot Girls. Terrible song.
And yes, I've realized that I'm a champion.
Favourite Songs: Good Morning, Champion, Stronger, I Wonder, Good Life, Everything I Am, The Glory, Homecoming
Next, we'll talk another type of Graduation: metamorphosis.
Until next time!
---