Top 15 Albums at 15 | #8 Acid Rap
Sep 26, 2016 • Matt • ~ 5 minute read • 715 words
---
Chance, acid rapper, soccer, hacky sacker, cocky khaki jacket jacker, slap-happy f-… woah woah woah. Regardless of some of the lyrics, I'm excited to present to you this next project:
Album #8: Acid Rap by Chance the Rapper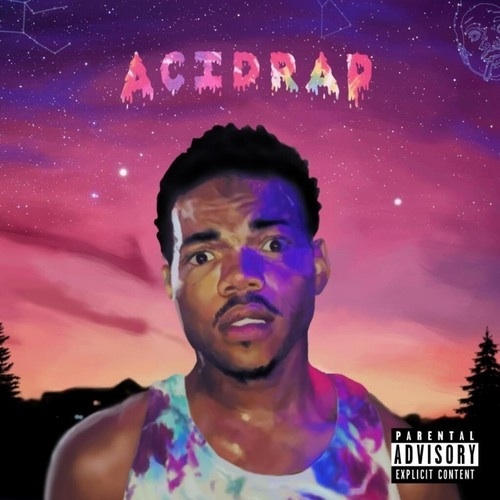 If you went back in time and told me that most of the music I'd listen to was through a streaming service that I paid $9.99 a month for, and that I'd be bummedd out if music I liked wasn't on the service, well I'd be hella confused. Plus, the other types of music I listened to released their albums online, for free! With no catches! Before Grade 7, everything I listened to was on my trusty Sony (?) MP3 player, with music from iTunes and my frequent visits to the library music rack. I had no idea about mixtapes, Spotify, or Chance the Rapper. Acid Rap changed all of that.
Before I explain my several sets of terrible stories that seem like they have no connection with the album or its music, let me properly introduce this mixtape. Acid Rap is Chance the Rapper's second mixtape, after 10 Day (which received mixed reviews). It mixes Chance's very upbeat, life-enjoying new rap vibe with the dark undertones of heavy drug use and lessons about life. I liked it, and so did most of the rap community: Acid Rap received universal acclaim, including #1 on Rolling Stone's best mixtape of the year. It put Chance in the spotlight as he pioneered a new sound, and a new idea: that all of his music should be free (and for all 3 of his projects, they have been). People like that kind of stuff.
Now we're going to go on our next tangent, which is the introduction of the concept of mixtapes. Before Acid Rap, I'd never ventured into the poorly-designed website of DatPiff (you need to step your shit up guys), or into non-studio releases in general. I'd anxiously wait for a Facebook post from the 100+ artists I liked, head to the local library, and rip that stuff into my iTunes account. It was a different time.
As a consequence of my CD-only music listening habits, I never really knew about online mixtapes (since they'd never be released on CD). And while 2013 was far past my internet innocence (torrenting… linux distros, right guys?), I'd still never really explored mixtapes.
Then, I heard Cocoa Butter Kisses. Hella good song. And I was super excited to learn more. I searched it up on Spotify, to no avail: prior to this experience, my only other missing-music experience was with Taylor Swift's catalogue. I looked it up and eventually found Acid Rap. And to be honest, I was confused about why someone would make their hard-made music for free, on the internet, when they had to spend tons of money on production. Boy, did I know nothing about the real rap game.
Acid Rap is an amazing project. It does an amazing creation of atmosphere and emotion, and that shit is hella catchy. Lots of Acid Rap is filled with drug metaphors (Coloring Book has these too), relating drug use with parts of life: Cocoa Butter Kisses is the most famous example (a story about the transformation of Chance as a person, and his relationship with his mom), but we also got stuff like Pusha Man, Juice, and Acid Rain. He paints a beautiful, grounded picture about coming-of-age, life in Chicago, and personal relationships. He's a good, hearty rapper; his features are well-collected and talented; production is hype, mellow, and everything in between. It set extremely high expectations for me for mixtapes.
After that, I looked into mixtapes from different artists: Logic, Meek Mill, even my boy Lil'Dicky. I'm forever grateful for that opportunity to try things out. And, to listen to some hella good music. Even Obama liked Acid Rap.
Thanks Obama.
Favourite Songs: Good Ass Intro, Pusha Man/Paranoia, Cocoa Butter Kisses, Juice, Lost, Everybody's Something, Interlude (That's Love), Favorite Song, Smoke Again, Acid Rain, Chain Smoker
Thanks for bearing with me: next up is one of the most famous albums of the 2000's, and the second-oldest album on this list. It's a throwback to all the 90s kids.
Until next time!
---