Top 15 Albums at 15 | #14 B.o.B Presents: The Adventures of Bobby Ray
Aug 18, 2016 • Matt • ~ 8 minute read • 961 words
---
Just to be very clear, this list isn't about the best albums critically, but rather how they've changed me as a music listener, and a person. This next album is exactly that: while it's not an amazing album musically, it was my first rap album, and damn, that stuff was catchy. I'm excited to present to you…
Album #14: B.o.B Presents: The Adventures of Bobby Ray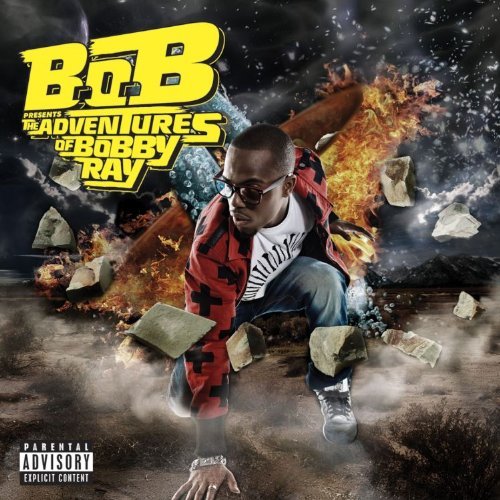 On May 16, 2000, Eminem released The Real Slim Shady: one of the most iconic songs of the decade. He playfully disses and insults celebrities and gives braggadocios lyrics, making it a radio hit: #1 in the UK, and #4 on the Billboard Top 100. Along with the Marshall Mathers LP, the song received critical success and won a Grammy for best Rap Performance.
Why am I telling you about an Eminem song in the year 2000? What does it have to with B.o.B's The Adventures of Bobby Ray? Well, after Eminem gained so much mainstream attention, other people tried doing the same thing. Eminem, in a way, was the birth of "pop rap": hip-hop that was radio catchy, and appealed to the masses (though this wasn't its intention). Before Eminem, big rappers like Jay-Z and Biggie weren't necessarily radio famous: their songs catered to a specific subgenre of rap listeners. With Eminem's broader appeal (and also that he was white, but that's another story to tell), hip-hop became a much broader music market. One of those rappers to aim for this trend was B.o.B.
The Adventures of Bobby Ray is the first studio album by Georgia rapper B.o.B. Coming out of a few mixtapes and singles, as well as XXL's Class of 2009 (a pretty big statement), he released Adventures. But the album wasn't a bunch of bangers: staying in style with pop rap, the song was filled with radio hits, catchy and simple raps, and a very watered down version of what most hardcore rappers would call rap. While it received international acclaim, with hit singles like Airplanes, Magic, and Nothin' On You, it was largely regarded as a bad album by the rap community. And I don't disagree: his raps don't have that much depth or level, and if you wanted to listen to a pop rapper why wouldn't you listen to Drake or Kanye?
Well, little Grade 4 me didn't really know about Kanye since his songs were rarely on the radio, and Drake songs were way too complicated for a kid who doesn't speak English as his first language. On the other hand, B.o.B made a bunch of radio-friendly singles that were simple to hum along to; let's take a look at Magic, by B.o.B featuring Rivers Cuomo (Weezer's lead singer):
I got the magic in me
Every time I touch that track it turns into gold
Everybody knows I got the magic in me
When I hit the floor, the girls come snappin at me
Now everybody wants some presto magic, magic, magic
They're not complicated, they're pretty fun, and most importantly for me, pretty easy to sing along to. Plus, I wanted magic; I wanted the Midas touch, and I definitely wanted girls snapping at me. It was the simplicity and catchiness that got to me.
Now I wasn't the only person that thought so: a lot of my friends at the time also liked songs like Airplanes. So we sang along to them; rapped along to them; and enjoyed ourselves with them. It helped that songs like Don't Let Me Fall, Nothin' On You, or Magic weren't explicit, so our parents were mostly fine with us talking about our presto magic.
I was excited to learn more about this awesome, super cool guy, so I went to the library and picked up a CD (I'll take sentences that nobody would say in 2016 for 300). I played it on my black MP3 player and jammed out to every single song on the album: Nothin' On You was very sweet and lovely, and Bet I made my feel like a cool thug and gangster (though, I was far from that).
Looking back on it, B.o.B is not one of my favourite artists. Revisiting his other albums, like Strange Clouds, Underground Luxury, or Psycadelik Thoughtz, didn't give me any satisfaction: just like Adventures, they are poor albums. Combined with the fact that B.o.B believes that the earth is flat and tried to diss Neil DeGrasse Tyson makes me kinda weirded out that I used to like this guy.
But, the sentimental value isn't lost. This album was a lot of my Grade 4/5/6, which at the time, was 1/3rd of my life. A lot of my grade school friends still remember fondly songs like Airplanes or Nothin' On You, and it brings back some rose-coloured memories. This album wasn't only that though: it drove me to explore other areas of Rap, and Pop: I never would've learned about Bruno Mars if it wasn't for Nothin' On You, or Paramore if it wasn't for Airplanes, or Eminem if it wasn't for Airplanes, Part II. It kickstarted me actually caring about music, instead of just listening to random radio songs on the way to school. And it's for that introduction to music that I place B.o.B Presents: The Adventures of Bobby Ray as Album #14. And hey, maybe I could use a dream or a genie or a wish, to go back to a place much simpler than this.
Favourite Songs: Don't Let Me Fall, Nothin' On You, Airplanes, Bet I, The Kids, Magic, Fame
Thanks for reading! Next time, we'll talk about an exceptional band, that's also an exception!
---